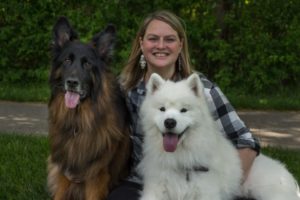 Lauren has loved animals for as long as she can remember. She grew up riding and caring for horses, walking any neighborhood dog she was allowed, and trying to take home anything with four legs. At thirteen, her parents gifted her with a beautiful Samoyed puppy named Casper. From that point, her love of animals grew to a point of obsession as all of her free time was spent with horses or training her dog.
During her adult life, Lauren has worked as a veterinary technician for over ten years continuing to hold a special interest in training and behavior. She grew as a trainer by teaching her own puppy kindergarten and manners classes, observing several experienced CPDT-KA trainers over a number of years, and attending clinics and classes by top trainers and veterinary behaviorists. Through experience, study, and observation, she passed her CPDT-KA exam at a 95% efficiency as well as completing her fear free trainer's certification course. She has been training her own dogs and teaching using fear free, science-based, positive reinforcement methods for over fifteen years.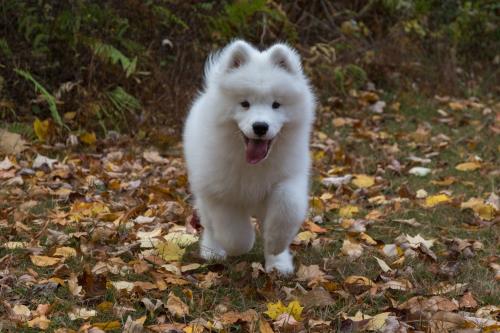 In addition to teaching, Lauren also loves utilizing her passion, skills, and abilities by serving with her dogs as pet therapy teams as well as being an active tester/observer through Alliance of Therapy Dogs. Every dog she's owned has served as a pet therapy dog participating in R.E.A.D, pet safety assemblies and nursing home visits. Additionally, Lauren loves working her German Shepherd, Gideon and her Samoyed, Kai in the areas of obedience, nose work, and trick dog training.
Professional Certifications and Memberships
Lauren possesses the following certifications and members and continues to advance her abilities and knowledge through continued learning.
Certified Professional Dog Trainer Knowledge Assessed (CPDT-KA)

Certified Trick Dog Instructor (CTDI)

Certfiied Fear Free Trainer

Approved Tester/Observer for Pet Therapy Dogs (Alliance of Therapy Dogs)

Trained in Pet First Aid and CPR

Over ten years experience as a veterinary nurse including emergency medicine
Lauren also holds memberships to the following professional organizations.
Member of the Pet Professional Guild

Association of Professional Dog Trainers